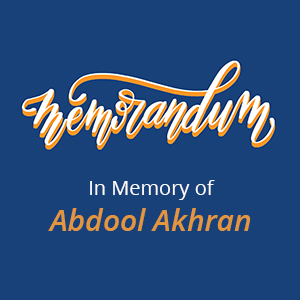 To: Members of the Family
Our family mourns. We have lost a mentor, a partner, a friend, and a good person. Abdool Akhran, CPA has died. Abdool had been a member of the Bert Smith Family for over 30 years.
Abdool's life will not be noted with a dash. A professional of the highest order, competitive, yet passionate. He was a determined and courageous man, with a vision. A decent human being whose commitment to integrity and the advancement of our profession was unparalleled. His dedication to the accounting profession was recognized by his elevation to the Presidency of the Greater Washington Society of CPA's and ultimately to be a member of the DC Board of Accountancy.
His clients had the attention and service of a talented accountant, to whom independence in thought was the greatest good.
His colleagues had a teammate, advisor, and an exacting teacher. Sincerity was his anchor.
We will conquer this day. We will continue to excel, caring for each other and being the best, we can be.
We pray that the mighty God will bring solace and everlasting grace to his family.